Dodge City High School

Welcome to the Dodge City High School
Class Of 1963 Website
Sunday I received notice that teacher Bob Duran passed away. Bob and his wife Karen joined the high school faculty our senior year. He was a coach and taught social studies I believe. Karen taught English. They were young blood among the faculty and soon became favorites.
Nicki Jean Mayrath Soice
NEWS: Here's an interesting article about classmate Dani Sandoval and his art (link), published in the November 19, 2017, issue of the Southwest Kansas Catholic magazine.
Due to the work of Sue (Elwell) Riegel, we can post the high-res copy of our 50th reunion group photo on our website (see the link below to download the full-sized photo file). Sue also tracked down the names of everyone in the photo. Thanks Sue!
DCHS Class 1963 50th Class Reunion Picture - September 14. 2013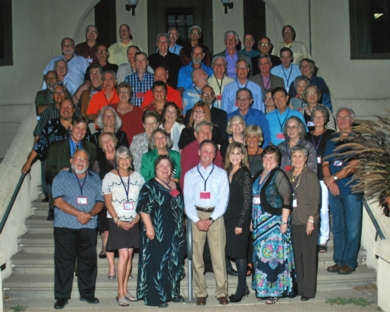 Here's a link to the full sized photo. https://goo.gl/xPVwHt Click the link, then click the download arrow in the upper-right corner of the image, Warning - the full-sized photo file is 14Mb!
First Row Left to Right:
Dan Krug, Sandy (Morrow) Sanders, Connie (Daeschner) Scott, Donald Richard Bickel, Sydney (Horton) Sauer, Norma Jean (Bumgardner) Wells, Martha (Stith) Suttle.
Second Row Left to Right:
Craig Harms, Dana (Williams) Kline, Marilyn (Leonard) Antrim, Robert Roberts, Marie (Ochs) Tweet-Jensen, Judy (Bartley) Finney.
Third Row Left to Right:
Max Paul Franklin, Nicki (Mayrath) Soice, Peggy (Zink) Loucks, Sue Ellen (Elwell) Riegel, Karen (Jones) Winfrey, Sandy (Sullivan) Stauth, Carol "Corky" (Cramer) Slattery, William "Bill" Slattery.
Fourth Row Left to Right:
Pete Gonzales, Janice (Henderson) Einertson, Janice (Baum) Henderson, Charles Robinson, Robert Williamson, Duane Naccarato, Bette (Pittman) Chuta.
Fifth Row Left to Right:
Frank Ontiberos, Russell Johnson, Daryl Gum, Alan George, Paul Bock, Jackie (Snyder) Carlton, Sharon (Orebaugh) Sawvel.
Sixth Row Left to Right:
Stanley Rumbaugh, Susan (Smyers) Lowe, Skip Cave, John "Mike" Wilhelm, Ron Peterson, Mark Woodruff, Harold Reed, Carol (Wilcox) Adolph.
Seventh Row Left to Right:
Norman Norton, Charles Lowe, Harry Zielke, Jim Hemphill, Thomas Maser, Vic Flegler, Ron Hamby.
Eighth Row Left to Right:
Ron Harms, Jay Combs, Bill Sweet, Kenneth Tague, Lewis Byers.
Classmates! Don't Forget to Register!
Be sure to register here on our website, so we can keep in contact with you!

If you are registered, you will be able to view all your classmate's profiles and photos.

Make sure we have all your contact information correct.
Check out our yearbook photos.
Upload a recent photo of you in your profile!
Our Commencement Program!
Sue Riegel (Elwell) saved a copy of our class Commencement Program. You can see it at:
Rose Bowl Band Cookbook
Thanks to Paul Bock's sister Lynn (Bock) Lewis, we now have an electronic copy of the cookbook which the 1961 DCHS marching band sold to raise funds for their trip to the Rose Bowl parade. The band cookbook has over 375 recipes from band members' moms and other supporters. Check out the advertisements in the book. They bring back memories of the businesses in Dodge in the '60s
Lynn loaned me her copy of the book, and I scanned it into a PDF file. You can view the cookbook in your browser by clicking on this link: http://tinyurl.com/DCHSCookbook61
Most devices will be able to view the cookbook in the browser after clicking on the above link. However, viewing the cookbook in a browser doesn't give you all the features that the electronic copy affords. To get the full use of the cookbook, you should download the cookbook file to your device and use the Adobe Reader application to open it.
Open the cookbook in your browser by clicking on the above link. To download the cookbook file, look for a downward-pointing arrow in the upper-left corner of your browser window. Click that arrow, and tell the system where to put the downloaded cookbook file. Once the file has been downloaded, you should put the latest version of Adobe Reader on your device.
The Adobe Reader app can be installed on virtually any PC, laptop, tablet or smartphone. You can get a copy of the Adobe Reader for your PC at: http://get.adobe.com/reader
You can also get the Adobe reader for the iPhone and iPad from the iPhone App store, and for Android devices from the Google Play store.
The electronic version of the cookbook has some advantages over the original paper book. The electronic cookbook has a hyperlinked table of contents, as well as being keyword-searchable. This means that you can type in a word in the Find box in Acrobat Reader, and it will find the occurrences of that word in the cookbook.
Once the PDF file is downloaded and you have Adobe Reader installed, you should open the cookbook in Reader. Click on the bookmark icon on the left margin of Reader to see the hyperlinked chapter markers. Click on a chapter marker to jump to that chapter in the cookbook. Some of the photos at the beginning of the cookbook are pretty large, so you may have to wait a few seconds for some of the photo pages to open.
The whole cookbook has been OCR'd (optical character recognized) so you can search the cookbook for keywords in the recipes and ads. To search for a word in the cookbook, click on Edit/Find in the Reader top menu. A search box will pop up in the upper right corner. Type in the word you want to find, and then click on the "Next" button just below the search box. You will jump to the first place in the cookbook where that word is found. Click "Next" again, and you will find the second occurrence of that word. I typed in "Cave" and found myself in the band roster, and then found two recipes that my mother contributed to the cookbook.
Skip Cave
School Song

Dodge High Forever
To thee we sing;
Through halls of learning
Our battle cry will ring

Demons forever
Raise our standards high
And ne'er forget and ne'er regret
We are students of Dodge Senior High.

Red Demons (fight song)

Red Demons, Red Demons
Raise your banner high;
Red Demons, Red Demons,
Fight until you die.

We'll ne'er forget you;
For you are true blue;
Always at the head
We are calling, calling to you ever;
Honor the Blue and Red.
New DCHS Alumni Association Formed!
The DCHS superintendent Alan Cunningham, informed me that they had just launched the DCHS alumni association a couple of weeks ago. See: http://www.usd443.org/Alumni.cfm Alan is encouraging all DCHS alumni to join their association. Dues are $10 for the first year, and $25/yr thereafter. A lifetime membership is $500 (you can pay this off $50/yr for 10 yrs). Alan said that they could have some brochures about the association available to hand out at our dinner at the Country Club on Saturday night, if we would like.

The new alumni association website has a section for classes to announce their reunions, and keep in contact with classmates, much as we have been doing with our DCHS1963.com site. The alumni association website was set up too late for us to use, though.
Trivia Question: Name the former DCHS student that went on to be governor of Kansas.

No cheating! The answer is at: Answer
Top Hits from the 50's & 60's
Here's a link to a list of all the top tunes from 1954 through 1965...